---
Visitor Info
IP: 35.172.217.40
Browser: Unknown
Browser Version:
Operating System: Unknown
---
Onsdag, 11. December 2019 04:22
Vores hvalp Maren Brems' U-Posh blev KBHJV i Hillerød den 20. september 2015; det var lige på hans et års fødselsdag.
Og den 3. oktober 2015 blev han Jugendsieger i Rostock.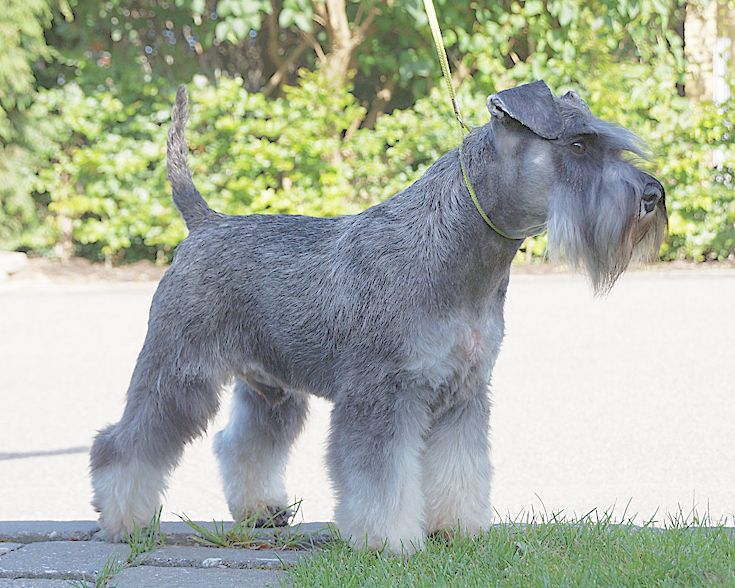 Posh i Hillerød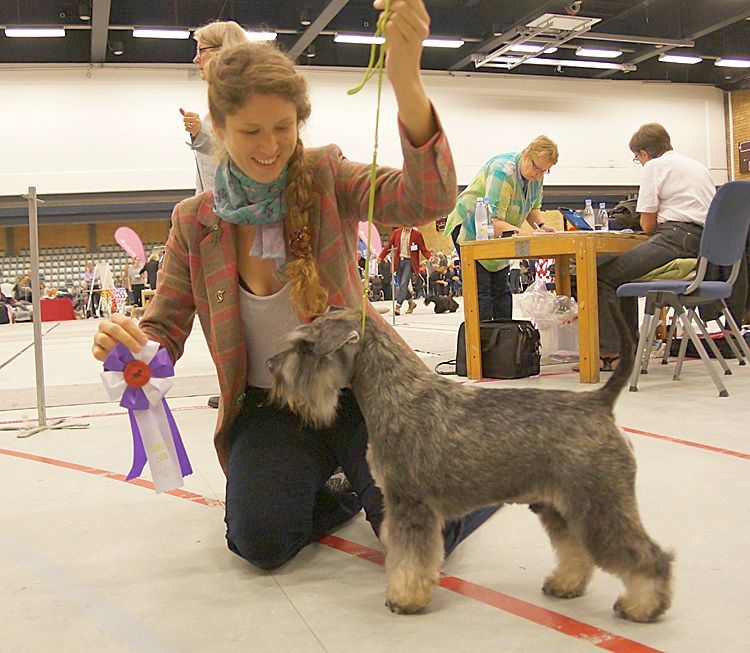 KBHJV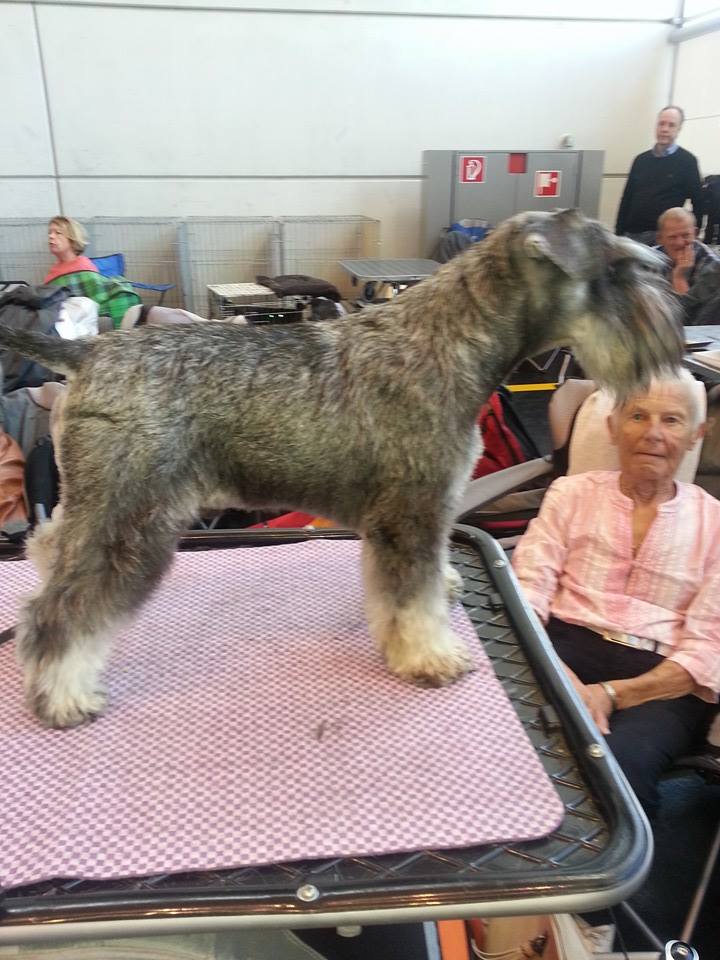 Rostock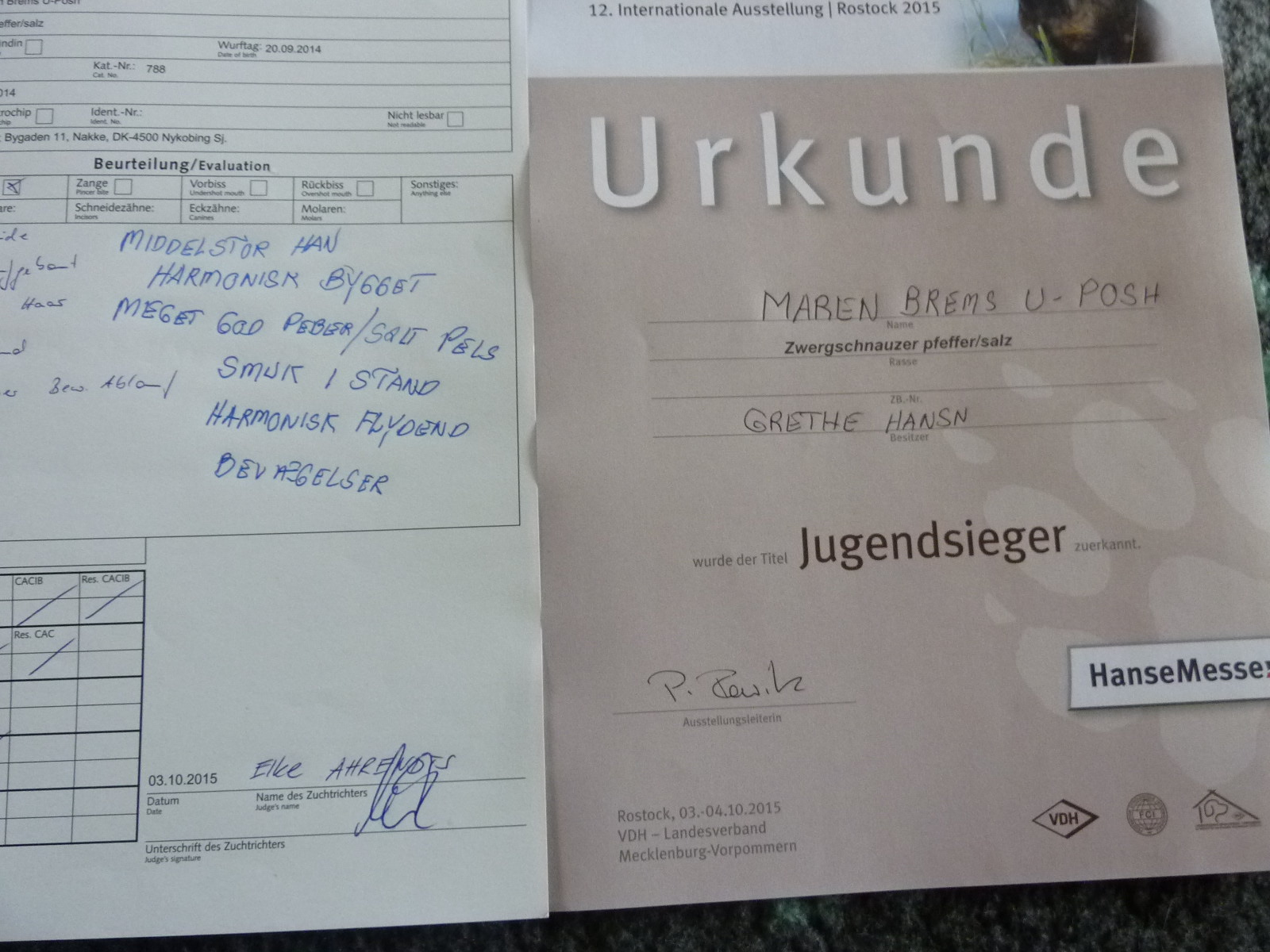 Detaljer
Vi deltog i to udstillinger i Lillestrøm, Norge den 4. og 5. september 2015.
Begge dage blev vores Otis Boanergos Honeymoon (Tøsen) og vores hvalp Maren Brems' This Heart of Mine (Rasmine) udstillet.
Den første dag var en norsk klubudstilling, hvor begge fik Excellent med CK.
Den anden dag var europaudstillingen EDS15, hvor Tøsen igen fik Excellent med CK og blev nummer 2 i mellemklassen, mens Rasmine fil Very Good.
Der var 83 riesenschnauzere tilmeldt EDS15, heraf mange fra Rusland.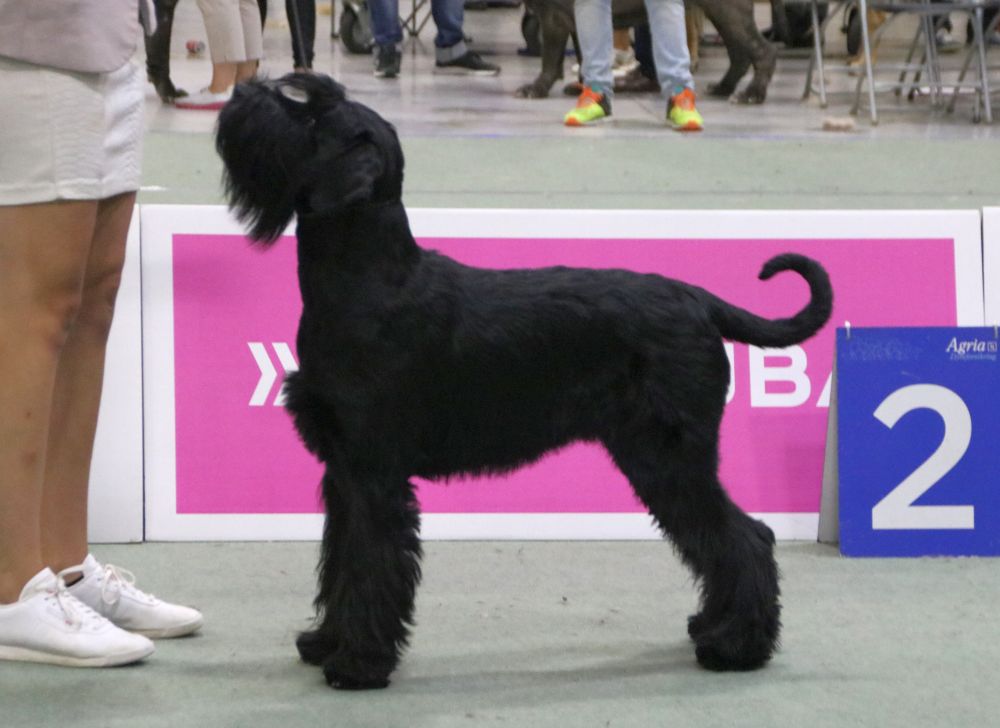 Tøsen nummer 2 i mellemklassen på EDS15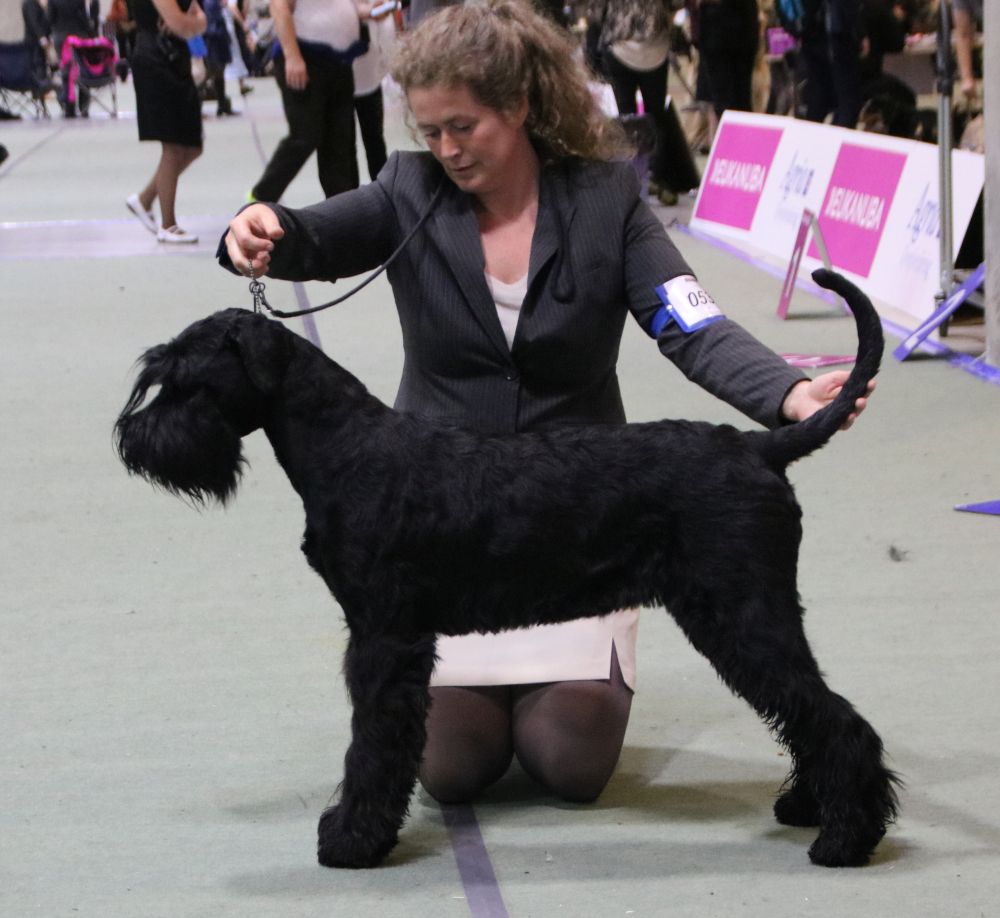 Rasmine på EDS15
Detaljer
Vores Otis Boanergos Honeymoon (Tøsen) blev BIR ved udstillingen i Varde den29. august 2015, og vores hvalp This Heart of Mine (Rasmine) blev 2. bedste tæve med CK.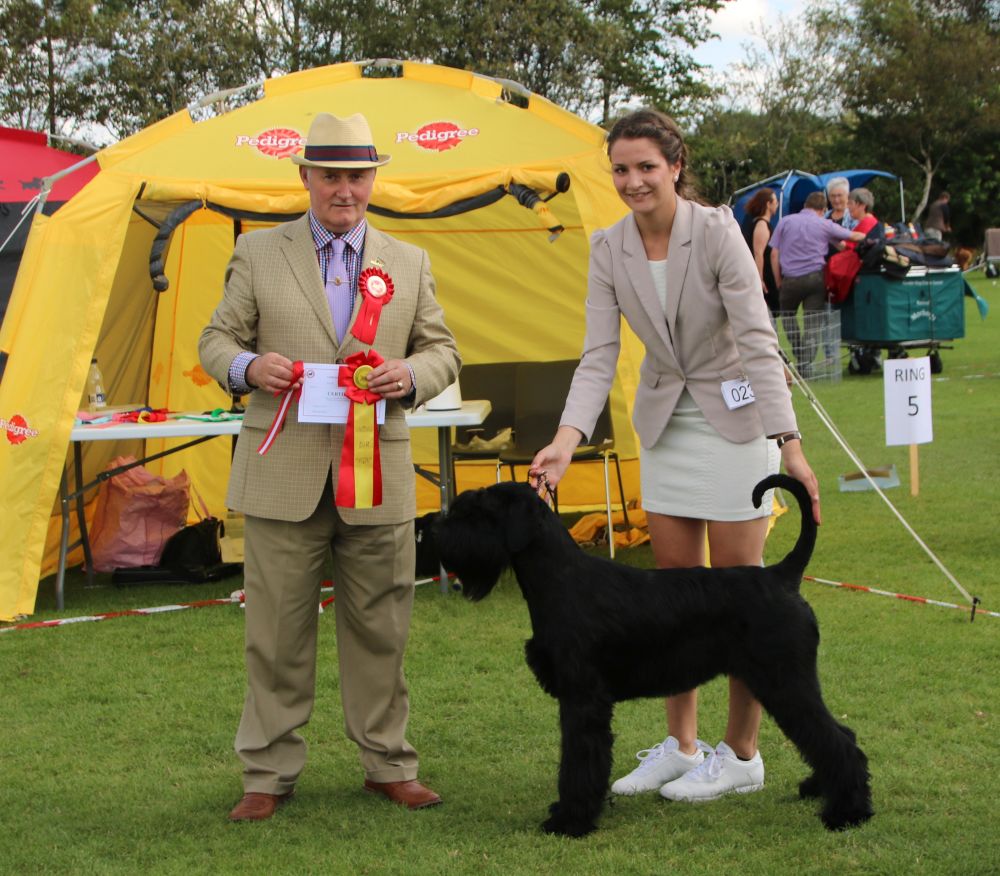 Tøsen BIR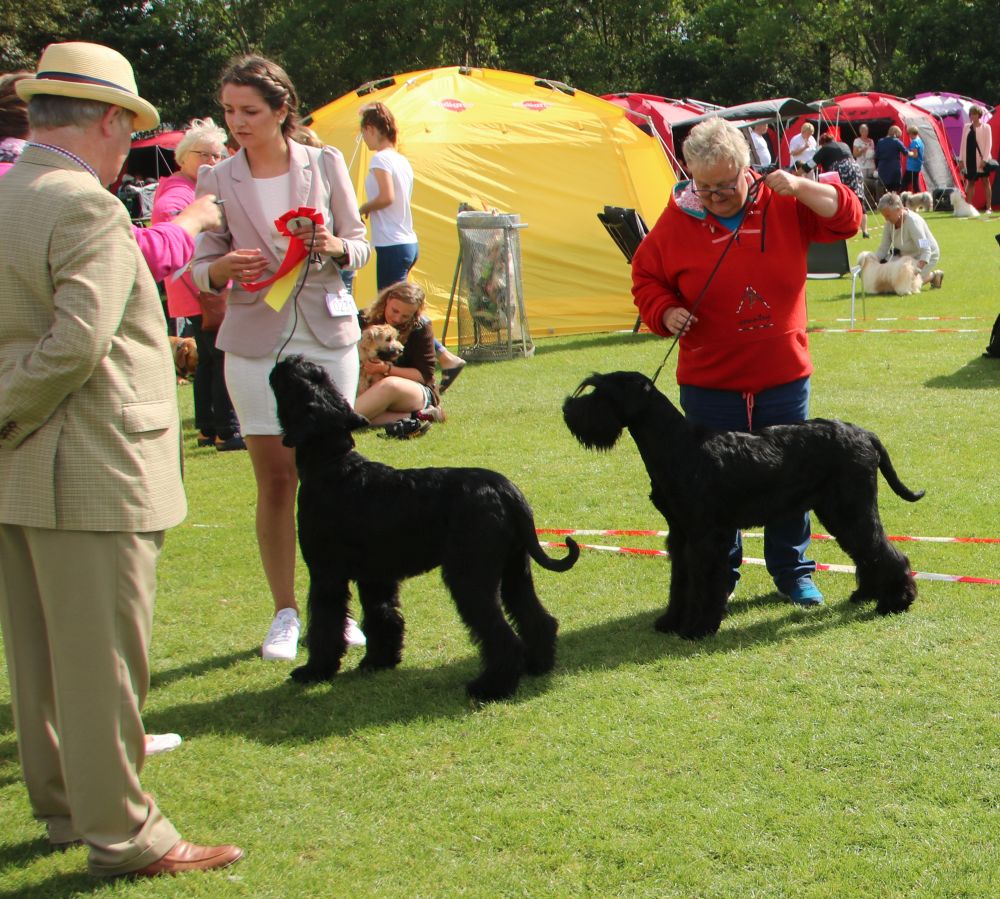 Rasmine blev nummer to.
Detaljer
Ved udstillingen i Bø, Norge den 22. og 23 august 2015 fik Hello Polly vom Ruhrtal (Wilma) sit 2. og 3. norske cert., og blev dermed NUCH og DKCH.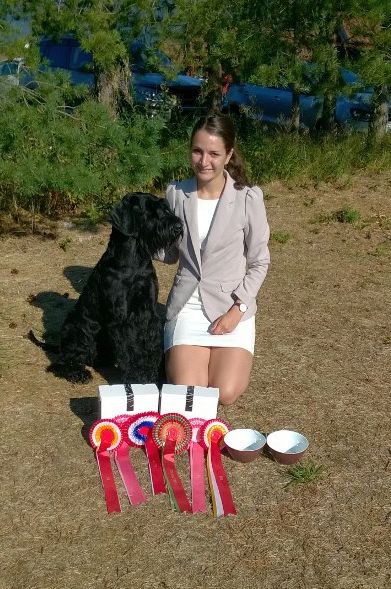 Wilma og Marlene
Detaljer
Vi udstillede Tøsen og Venus. Det gik godt for Tøsen, hun blev BIM begge dage. Venus fik Very Good lødag, og fik søndag Excellent med CK, juniorcert og blev 4. bedste tæve med R-cert.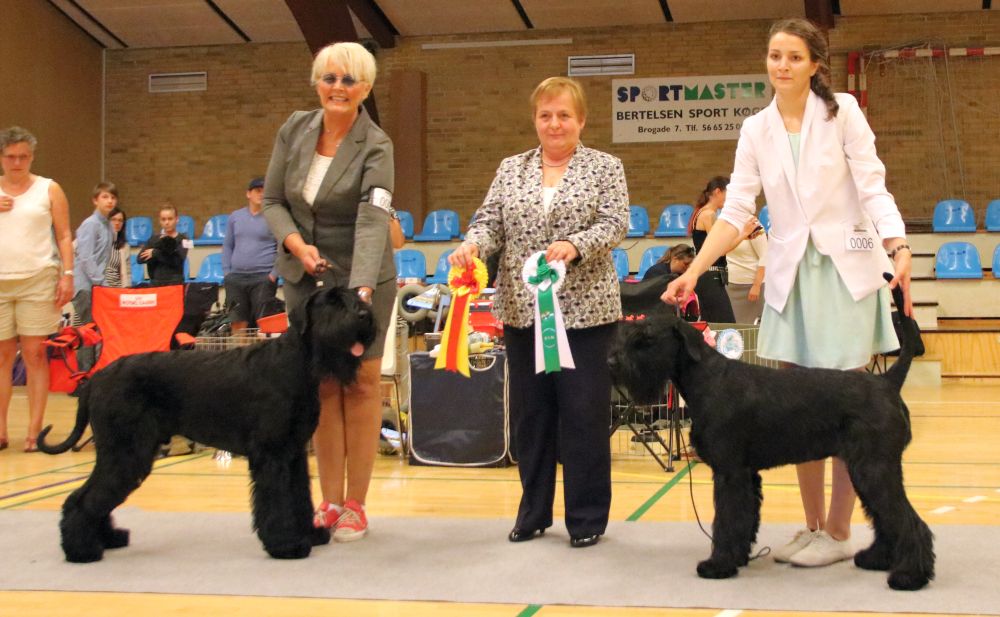 Detaljer
Side 8 ud af 25
Warning: Illegal string offset 'active' in /customers/b/7/b/maren-brems.dk/httpd.www/templates/joomlage0056-designcanvas/html/pagination.php on line 95 Warning: Illegal string offset 'active' in /customers/b/7/b/maren-brems.dk/httpd.www/templates/joomlage0056-designcanvas/html/pagination.php on line 101 Warning: Illegal string offset 'active' in /customers/b/7/b/maren-brems.dk/httpd.www/templates/joomlage0056-designcanvas/html/pagination.php on line 95 Warning: Illegal string offset 'active' in /customers/b/7/b/maren-brems.dk/httpd.www/templates/joomlage0056-designcanvas/html/pagination.php on line 101 Warning: Illegal string offset 'active' in /customers/b/7/b/maren-brems.dk/httpd.www/templates/joomlage0056-designcanvas/html/pagination.php on line 95 Warning: Illegal string offset 'active' in /customers/b/7/b/maren-brems.dk/httpd.www/templates/joomlage0056-designcanvas/html/pagination.php on line 101 Warning: Illegal string offset 'active' in /customers/b/7/b/maren-brems.dk/httpd.www/templates/joomlage0056-designcanvas/html/pagination.php on line 95 Warning: Illegal string offset 'active' in /customers/b/7/b/maren-brems.dk/httpd.www/templates/joomlage0056-designcanvas/html/pagination.php on line 101 Warning: Illegal string offset 'active' in /customers/b/7/b/maren-brems.dk/httpd.www/templates/joomlage0056-designcanvas/html/pagination.php on line 95 Warning: Illegal string offset 'active' in /customers/b/7/b/maren-brems.dk/httpd.www/templates/joomlage0056-designcanvas/html/pagination.php on line 101 Warning: Illegal string offset 'active' in /customers/b/7/b/maren-brems.dk/httpd.www/templates/joomlage0056-designcanvas/html/pagination.php on line 95 Warning: Illegal string offset 'active' in /customers/b/7/b/maren-brems.dk/httpd.www/templates/joomlage0056-designcanvas/html/pagination.php on line 101 Warning: Illegal string offset 'active' in /customers/b/7/b/maren-brems.dk/httpd.www/templates/joomlage0056-designcanvas/html/pagination.php on line 95 Warning: Illegal string offset 'active' in /customers/b/7/b/maren-brems.dk/httpd.www/templates/joomlage0056-designcanvas/html/pagination.php on line 101 Warning: Illegal string offset 'active' in /customers/b/7/b/maren-brems.dk/httpd.www/templates/joomlage0056-designcanvas/html/pagination.php on line 95 Warning: Illegal string offset 'active' in /customers/b/7/b/maren-brems.dk/httpd.www/templates/joomlage0056-designcanvas/html/pagination.php on line 101 Warning: Illegal string offset 'active' in /customers/b/7/b/maren-brems.dk/httpd.www/templates/joomlage0056-designcanvas/html/pagination.php on line 95 Warning: Illegal string offset 'active' in /customers/b/7/b/maren-brems.dk/httpd.www/templates/joomlage0056-designcanvas/html/pagination.php on line 101 Warning: Illegal string offset 'active' in /customers/b/7/b/maren-brems.dk/httpd.www/templates/joomlage0056-designcanvas/html/pagination.php on line 95 Warning: Illegal string offset 'active' in /customers/b/7/b/maren-brems.dk/httpd.www/templates/joomlage0056-designcanvas/html/pagination.php on line 101