---
Visitor Info
IP: 18.206.194.134
Browser: Unknown
Browser Version:
Operating System: Unknown
---
Lørdag, 11. juli 2020 22:25
 Ved udstillingen i Århus i dag den 12. maj 2007 gik det rigtig godt
Vores to hunde Maren Brems' Kaiser og Giant Wellejus' Amazing Grace blev henholdsvis BIR og BIM. Dommer var Birgitte Schjøth.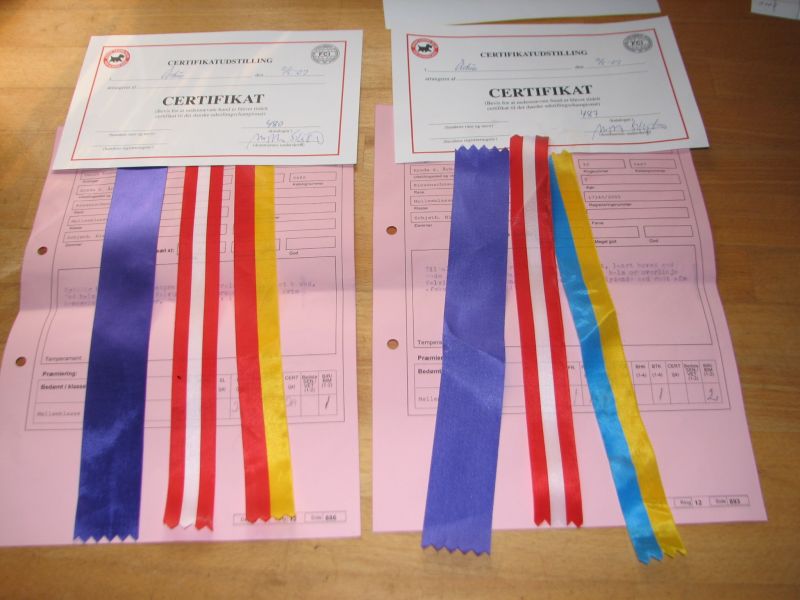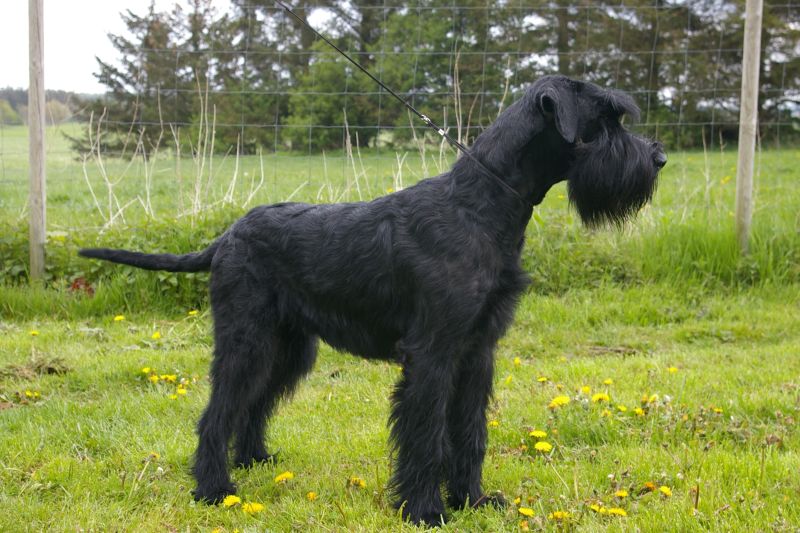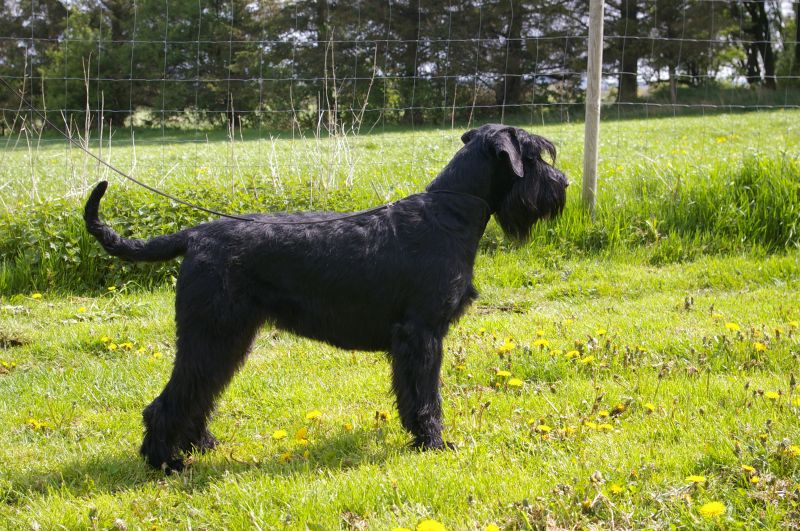 Detaljer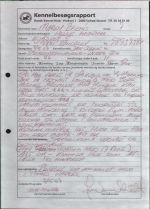 Helle var for nylig på DKK's opdrætterkursus, og ved det efterfølgende kennelbesøg i dag, blev forholdene her godkendt uden anmærkninger. Vi må derfor anvende DKK's opdrætterlogo.
Detaljer
De 8 riesenschnauzerhvalpe udvikler sig planmæssigt. De kan alle finde ud af at komme ned af de to trin til haven, og flere af dem kan også komme op igen. På billedet herunder er hvalpen 6 uger, og det er tydeligt at den ser opmærksomt på fotografen.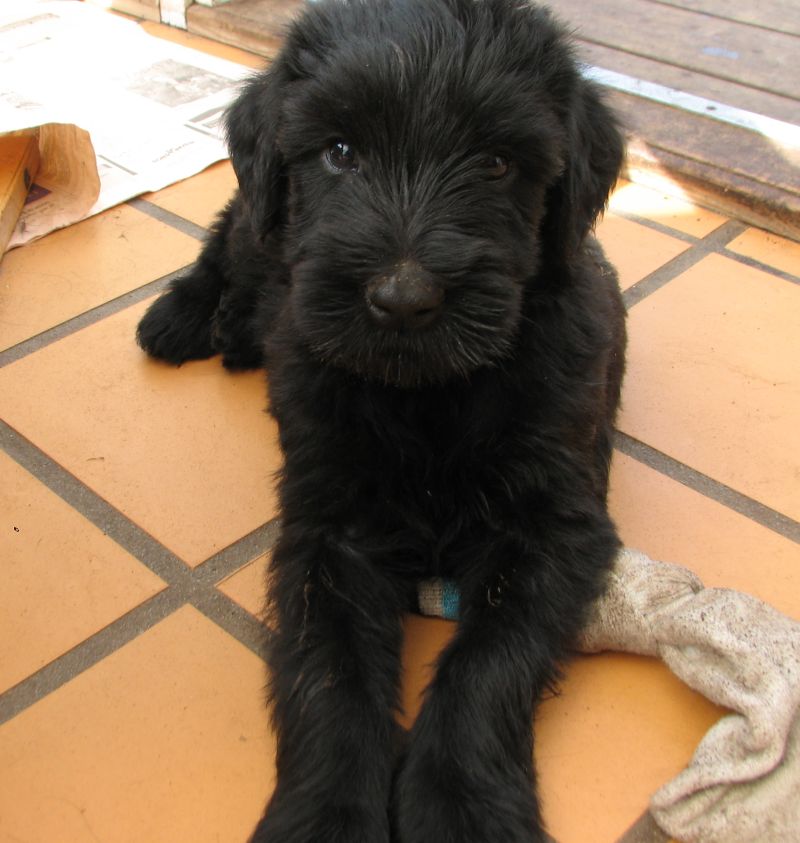 Detaljer
Nu er hvalpene blevet så store, at de kan spise selv, og det er festligt.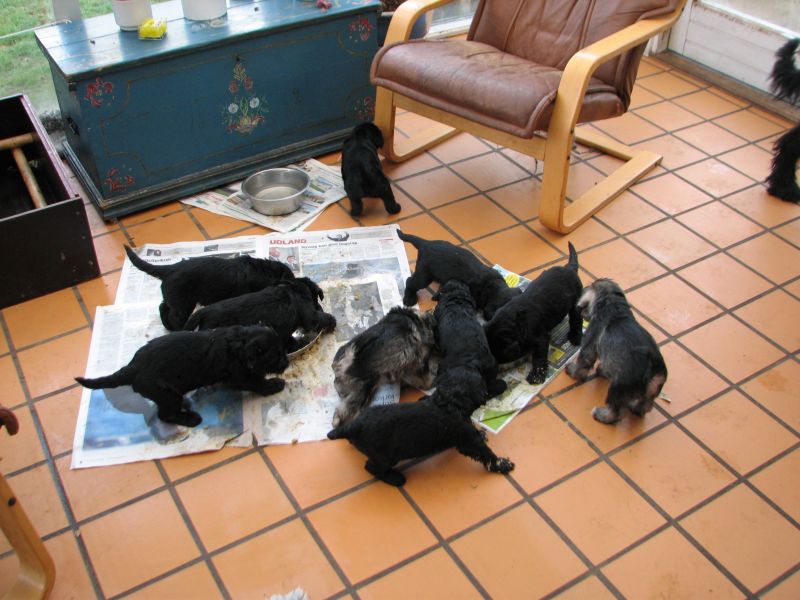 Her spiser alle hvalpene sammen. De har ikke lært bordskik endnu, så de kravler oven i madskålene, og ofte falder et par stykker i søvn oppe i skålen, når de ikke kan spise mere.
Vi har som altid vores hvalpe inde i stuen, det tror vi er bedst. I hvert fald er vores hvalpe meget rolige og tillidsfulde.
Detaljer
Side 25 ud af 25
Warning: Illegal string offset 'active' in /customers/b/7/b/maren-brems.dk/httpd.www/templates/joomlage0056-designcanvas/html/pagination.php on line 95 Warning: Illegal string offset 'active' in /customers/b/7/b/maren-brems.dk/httpd.www/templates/joomlage0056-designcanvas/html/pagination.php on line 101 Warning: Illegal string offset 'active' in /customers/b/7/b/maren-brems.dk/httpd.www/templates/joomlage0056-designcanvas/html/pagination.php on line 95 Warning: Illegal string offset 'active' in /customers/b/7/b/maren-brems.dk/httpd.www/templates/joomlage0056-designcanvas/html/pagination.php on line 101 Warning: Illegal string offset 'active' in /customers/b/7/b/maren-brems.dk/httpd.www/templates/joomlage0056-designcanvas/html/pagination.php on line 95 Warning: Illegal string offset 'active' in /customers/b/7/b/maren-brems.dk/httpd.www/templates/joomlage0056-designcanvas/html/pagination.php on line 101 Warning: Illegal string offset 'active' in /customers/b/7/b/maren-brems.dk/httpd.www/templates/joomlage0056-designcanvas/html/pagination.php on line 95 Warning: Illegal string offset 'active' in /customers/b/7/b/maren-brems.dk/httpd.www/templates/joomlage0056-designcanvas/html/pagination.php on line 101 Warning: Illegal string offset 'active' in /customers/b/7/b/maren-brems.dk/httpd.www/templates/joomlage0056-designcanvas/html/pagination.php on line 95 Warning: Illegal string offset 'active' in /customers/b/7/b/maren-brems.dk/httpd.www/templates/joomlage0056-designcanvas/html/pagination.php on line 101 Warning: Illegal string offset 'active' in /customers/b/7/b/maren-brems.dk/httpd.www/templates/joomlage0056-designcanvas/html/pagination.php on line 95 Warning: Illegal string offset 'active' in /customers/b/7/b/maren-brems.dk/httpd.www/templates/joomlage0056-designcanvas/html/pagination.php on line 101 Warning: Illegal string offset 'active' in /customers/b/7/b/maren-brems.dk/httpd.www/templates/joomlage0056-designcanvas/html/pagination.php on line 95 Warning: Illegal string offset 'active' in /customers/b/7/b/maren-brems.dk/httpd.www/templates/joomlage0056-designcanvas/html/pagination.php on line 101 Warning: Illegal string offset 'active' in /customers/b/7/b/maren-brems.dk/httpd.www/templates/joomlage0056-designcanvas/html/pagination.php on line 95 Warning: Illegal string offset 'active' in /customers/b/7/b/maren-brems.dk/httpd.www/templates/joomlage0056-designcanvas/html/pagination.php on line 101 Warning: Illegal string offset 'active' in /customers/b/7/b/maren-brems.dk/httpd.www/templates/joomlage0056-designcanvas/html/pagination.php on line 95 Warning: Illegal string offset 'active' in /customers/b/7/b/maren-brems.dk/httpd.www/templates/joomlage0056-designcanvas/html/pagination.php on line 101 Warning: Illegal string offset 'active' in /customers/b/7/b/maren-brems.dk/httpd.www/templates/joomlage0056-designcanvas/html/pagination.php on line 95 Warning: Illegal string offset 'active' in /customers/b/7/b/maren-brems.dk/httpd.www/templates/joomlage0056-designcanvas/html/pagination.php on line 101